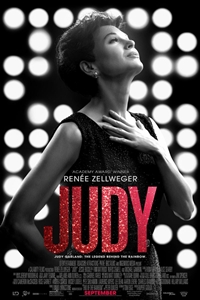 Opened October, 4th 2019
Rated PG-13
Runtime 1 hr. 58 min.
Starring Renee Zellweger, Finn Wittrock, Rufus Sewell, Jessie Buckley
Directed by Rupert Goold
Genre Drama, Musical
SynopsisWinter 1968 and showbiz legend Judy Garland arrives in Swinging London to perform a five-week sold-out run at The Talk of the Town. As she prepares for the show, battles with management, charms musicians and reminisces with friends and adoring fans, her wit and warmth shine through. Even her dreams of love seem undimmed.