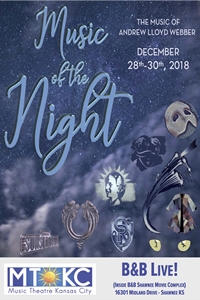 MTKC "Music of the Night"
Runtime 2 hr. 0 min.
Starring
Genre Program
SynopsisCelebrate the music of Broadway's most beloved composer, Sir Andrew Lloyd Webber, as we explore the beautiful songs from classics like "Phantom of the Opera" and "Sunset Boulevard" to his rock hits from shows like "Cats," "Evita" and "Jesus Christ Superstar." Featuring a live orchestra and a large cast of singers and dancers, this is certain to captivate all lovers of music and theatre.