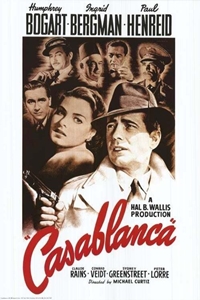 Opened November, 26th 1942
Rated PG
Runtime 1 hr. 42 min.
Starring Humphery Bogart, Ingrid Bergman, Paul Henried, Claude Rains
Directed by Michael Curtiz
Genre Drama
SynopsisFiftieth anniversary print (1992) of classic World War II story, starring Humphrey Bogart, Ingrid Bergman, Paul Henreid, Claude Rains et al, looks terrific in glorious black and white. A half century later, it still is a sublimely romantic, soul-satisfying experience.