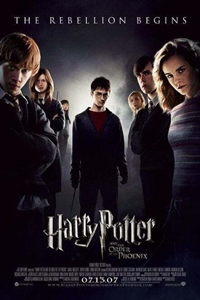 Harry Potter and the Order of the Phoenix
Opened September, 10th 2019
Rated PG-13
Runtime 2 hr. 18 min.
Starring Daniel Radcliffe, Rupert Grint, Emma Watson, Helena Bonham Carter
Directed by David Yates
Genre Action/Adventure, Drama, SciFi/Fantasy
SynopsisWith their warning about Lord Voldemort's return scoffed at, Harry and Dumbledore are targeted by the Wizard authorities as an authoritarian bureaucrat slowly seizes power at Hogwarts.