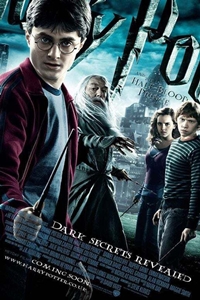 Harry Potter and the Half-Blood Prince
Opened September, 17th 2019
Rated PG
Runtime 2 hr. 33 min.
Starring Daniel Radcliffe, Rupert Grint, Emma Watson, Jim Broadbent
Directed by David Yates
Genre SciFi/Fantasy, Action/Adventure
SynopsisVoldemort is tightening his grip on both the Muggle and wizarding worlds, and Hogwarts is no longer the safe haven it once was. Harry suspects that dangers may even lie within the castle, but Dumbledore is intent upon preparing him for the final battle that he knows is fast approaching. Together they work to find the key to unlock Voldemort's defenses and, to this end, Dumbledore recruits his old friend and colleague, Professor Horace Slughorn. Meanwhile, the students are under attack from a very different adversary as teenage hormones rage across the ramparts. Love is in the air, but tragedy lies ahead, and Hogwarts may never be the same again.