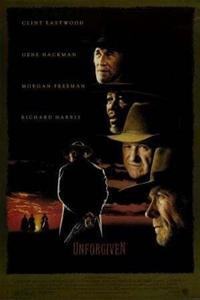 Opened September, 18th 2018
Rated R
Runtime 2 hr. 11 min.
Starring Clint Eastwood, Gene Hackman, Morgan Freeman, Richard Harris
Directed by Clint Eastwood
Genre Drama, Western
SynopsisClint Eastwood and Morgan Freeman play retired, down-on-their-luck outlaws who pick up their guns one last time to collect a bounty offered by the vengeful prostitutes of the remote Wyoming town of Big Whiskey.