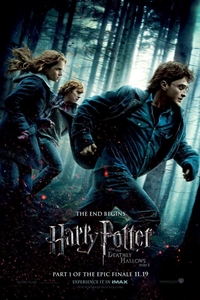 Harry Potter and the Deathly Hallows - Part 1
Opened September, 24th 2019
Rated PG-13
Runtime 2 hr. 26 min.
Starring Daniel Radcliffe, Rupert Grint, Emma Watson, Ralph Fiennes
Directed by David Yates
Genre SciFi/Fantasy, Action/Adventure, Drama
SynopsisThe war has begun and Voldemort's Death Eaters seize control of the Ministry of Magic and even Hogwarts, terrorizing and arresting anyone who might oppose them. But the one prize they still seek is the one most valuable to Voldemort: Harry Potter.