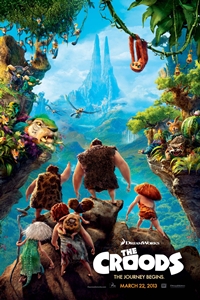 Opened March, 22nd 2013
Rated PG
Runtime 1 hr. 38 min.
Starring Nicolas Cage, Ryan Reynolds, Emma Stone, Catherine Keener
Directed by Chris Sanders, Kirk De Micco
Genre Animation
SynopsisThis prehistoric comedy adventure follows the world's first family as they embark on the journey of a lifetime when the cave that has always shielded them from danger is destroyed. Traveling across a spectacular landscape, the family discovers an incredible new world filled with fantastic creatures -- and their outlook is changed forever.