THE LYRIC
If you're looking to relax in peak comfort, The Lyric is the auditorium for you! An intimate 38-seat theater, The Lyric is a tribute to the first B&B Theatres cinema located in Salisbury in 1924. The Lyric is luxuriously outfitted with richly colored wall curtains, wood-grained floors, and tray tables affixed to each of the heated leather recliners for easy access to food and drinks. The Lyric will play (pending availability) art house films, indie content, and award winners, making it a special and unique homage to old Hollywood combined with the best in cutting-edge cinema. Designed not only as an special auditorium for public showtimes, but as a rentable venue for private events, The Lyric also has access to a separate bar and can be staffed with dedicated bartenders and service staff to make rentals and parties all the more exclusive!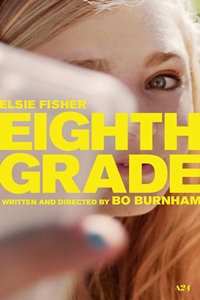 Directed by Bo Burnham
With Elsie Fisher, Josh Hamilton, Emily Robinson
Rated R for for language and some sexual material
Thirteen-year-old Kayla endures the tidal wave of contemporary suburban adolescence as she makes her way through the last week of middle school the end of her thus far disastrous eighth grade year before she begins high school.
Friday, August 3rd